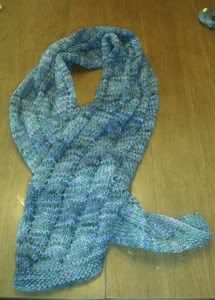 I finished my scarf for February Fixing. I love how this turned out. It's now nice and wide and still long enough to wrap nicely. I used the Bias Lace Scarf pattern from the Pattern-a-Day Calendar. The closeup picture below better represents the true color.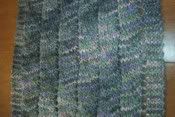 Don't judge me.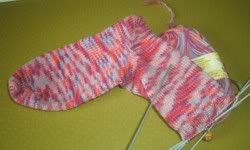 It's become apparent to me that I go through kicks. You can call is obsessions or even a sickness if you wish to. Last year it was scarves and the year before it was afghans. I have this need to make each one better as I explore multiple techniques. Once I feel that I have made one truly awesome object, the craziness will start to pass-only to turn to something else.
These are actually the fast pair I've made yet. I started last evening and have been sporadically working on them throughout the day. Plain stockinette stitch and a larger gauge than I'm used to really move things along.