Yup, that's right. I did it. I broke my promise to myself. It happened so quickly I didn't even know it was happening. Before I knew it, I was printing out a confirmation of sale.

So, you may ask, what prompted me to do it? Well, there's this little place on the internet that's called Elann. Need I say more? I look at it this way-yarn sells out so quickly that it might not be there when I do get through my ten projects. Then what would I do? I mean, it's happened before. I'll divulge my new lovies when they arrive.

Honestly there hasn't been too much knitting going on. Between getting sick last week and paying for it all this week, and trying to get stuff done around the house, time has been a little lacking. I did manage to do these earlier this week: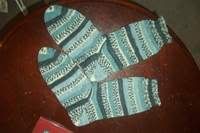 These are just your basic toe-up sock. Nothing special, but the stripes match within twelve stitches. Not bad for an afterthought.

Thanks for the concern about my sockpal's socks. I do have a few tricks left up my sleeve. I finally realized two days ago that I was stressing too much. I had it in my head that they had to be the most beautiful socks that had ever been knit. I know what my pal likes and doesn't-just go from there. I'm feeling much better about it and have faith that she'll like what I do make her.

Oh, one more thing. I finally updated my Finished Objects page with all the info on my projects.

On the home front I have good and worriesome news. First, Royd is in Kuwait! We still don't know exactly when he'll be leaving but that's okay. I'm just glad he's out of Iraq. Second, my FIL has accepted a job in Baghdad as a contractor. Honestly, I worry more about him than my husband-he won't be carrying around a M-16! I guess the worrying will never stop. Last year it was a cousin's husband over there. Who knows what the following year will hold. Hopefully not my husband again.