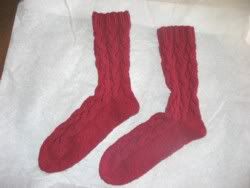 Yes, the socks are done. Finally! All I have to say is, I hope that she likes them. I have never been soooo stressed out about a project before. The first sock's heel was knit three times and the toe twice. I'm still not 100% satisfied, but there's nothing wrong with them. I just wanted them to be perfect.
The pattern is the Pretty Comfy sock and I did it in Elann's Esprit. I made these for myself last year and they remain one of my favorites. After sneaking around my pal's blog, I noticed that she didn't have any in this yarn and she said she was open to anything. So, it seemed like a good choice.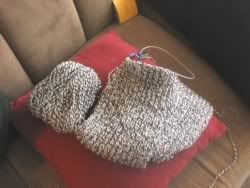 Aahhhh! I've been sucked into the land of neverending ribbing! Send help!
Royd vetoed the Irish Hiking Scarf. Although he loves cables, he felt it wasn't "masculine" for a scarf. Whatever. He wanted something that looked identical from the same side. So, here we are in 2x2. I hate doing scarves in this. It seems to take forever. Perhaps it's because I don't purl correctly and keep having to change hand positions. Maybe someday I'll figure it out and maybe someday I'll finish the blasted thing.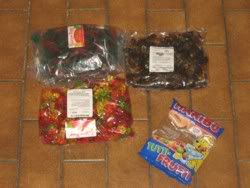 No, I didn't forget about the gummies. We seem to be missing one of the packages. So, I put a normal sized bag in for comparison. The large ones are 1kg each and the small is 250gms. Please note that I do not eat gummies. I like the flavor but not the texture. Give me chocolate or a cookie any day.