The hubster was granted a three day weekend after finishing his reintegration. So, with a little bit of money burning a hole in the debit card, we ended up doing some shopping. A lot of shopping.

Saturday we ventured downtown to see if we couldn't find some yarn for his sweater. No luck there, but I did find some more sock yarn.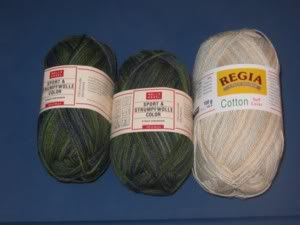 After walking around for nearly two hours, we got hungry and headed to the E-Center (grocery store) to see what kind of goodies we could find. Let's just say that there was alot of chocolate bought.

Sunday was clean-up day. I took the kids for a walk while Royd "attempted" to clean and organize his stuff. I'll have to finish up tomorrow while he's at work.

Today we drove down to Wurzburg to explore some of the palaces and cathedrals. First stop was suppose to be the Residenz, a Baroque palace. We turned the wrong way and ended up on Alte Mainbrucke (Old Bridge) instead.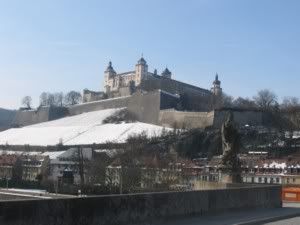 This is a shot off of the bridge of Festung Marienberg (fortress). Too bad it was closed today.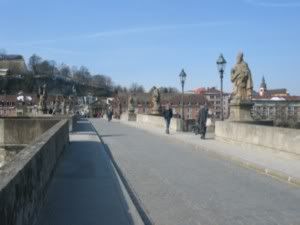 This is the actual bridge itself. There are statues of saints across the entire span.

After we turned around to head back to the Residenz, we found the Marktplatz.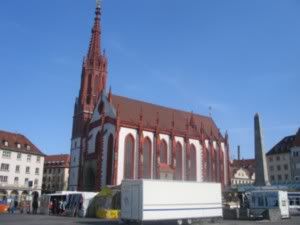 This is the Marktplatz with a beautiful cathedral towering over it. At the bottom of the picture you can see the different vendors. They sell anything and everything to include kitchenware, pottery, clothing, and baskets to name a few. I happened upon a particular vendor that was selling handmade socks, felted slippers and hats. As I was admiring his work, a basket caught my eye. I just had to indulge: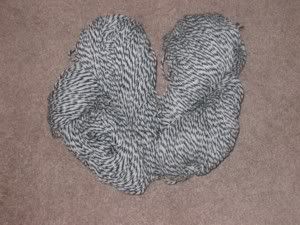 That's 400 yards of handspun blue and white sockenwolle. It's fate is to be a scarf for Royd and I'm thinking the maybe the Irish Hiking Scarf.
Needless to say, we never quite got to the Residenz today. Next time. We ended up walking around and exploring the downtown. It's easily five times the size as ours. After five hours, and twenty five dollars worth of Gummi candies, we called it quits for the day. Oh, you want to see what twenty five dollars of Gummi's looks like? I'll indulge you next time.