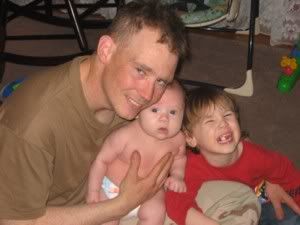 After several no-go's, Royd finally arrived last Friday at about 8pm. I of course, being the bad blogger that I am, forgot to take the camera with me. So, I snapped some pictures once we got home. The reason Connor's in his diaper is because Royd wanted to see how fat he had gotten. Connor is now know as "Pork Chop".
Reilly is thrilled that his daddy is home. I think he's a bit worried that he will leave again, as he hangs onto him constantly. I'm also not allowed to do anything for him. I don't mind-it gives me a break!
Obviously knitting has taken a back seat this past week. I have managed to finish the knitting on another sweater. It just needs a major blocking before seaming. I still haven't blocked the black cowl neck sweater-I keep forgetting. I also started the socks for my sock pal. They should be done in a few days.
The good news is that Royd had finally agreed to let me knit him a sweater. After my first (scary) attempt to knit him one, he kept telling me that he didn't want one. I showed him what I've made since he's been gone and saw that I've improved greatly. So, this weekend we're going to go see if we can find a color that he likes. He picked that Basket Weave Pullover from Interweave Knits Fall 2004. He made my day when he said that he doesn't want the zipper. I'm dreading doing that because it requires sewing needles and thread.
Hopefully now that things have started to settle around here, I can actually finish something and show it off!