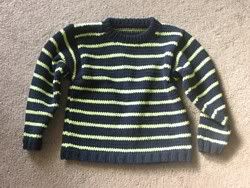 I finally finished Connor's sweater. Who knew that such a small and easy project would take over two months to complete.

The neckband gave me some trouble. Originally I did a 2x2 rib with a kitchener b.o. It was too sloppy looking. Next I did a folded and hemmed 2x2. The ribbing ended up being too stretched out. I then settled on a 1x1 that was folded over. Much better even though it doesn't match the other ribbing. I don't care. I figure that it'll end up getting stretched as I put over his head so this is the best option.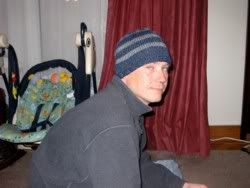 I made this hat for Royd last week in an afternoon. He picked out the pattern and the yarn. He loves it and has wore it every day(except when in his uniform). I got the pattern from the 2004 issue of Knit It. I think it's called Cool Caps-it's somewhere in here. I used Encore Worsted in Blue and Grey.

Just so you know, this is his spot in the house. At any given time you can find him here--sitting in front of the tv, either watching it or playing PS2. The carpet underneath shows it too.