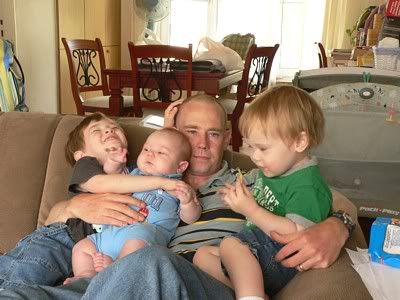 Have any idea how hard it was to get a picture with all of them facing (somewhat) the camera and no one screaming? Horrible.
Well, Royd left us Sunday for another year. We said our goodbyes on Saturday night and sent him off. We did have a chance to go see him one more time on Sunday morning, but Royd asked me not to bring the kids up. He just thought it would be easier on everybody.
So far we're doing okay. Reilly understands that he's gone, but still keeps asking for him. I think it'll take awhile before he really comprehends the full depth of what's going on.
There isn't much to say except that I'm glad it's finally here and we can get it over and done with. I'll be back later this week with some knitting and spinning content!