I've got alot to show you, both knitting and spinning. For today, I'll stick to the knitting to keep it more manageable. As the title suggests, I finished a few things.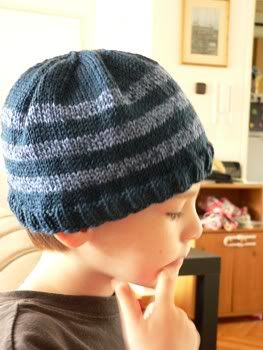 I bought the yarn for this hat last winter when Reilly wanted a new one. I kinda waited to cast on until it was way too warm and kinda tossed everything aside. Of course, the needles were snatched and then the yarn was a mess. Only thing to do was to start over. I didn't use a pattern per se, I kinda used the idea of a skull cap I had made for Royd before. I was way too lazy to go find the pattern, so the top's a bit wonky. He loves it, so that's all that matters!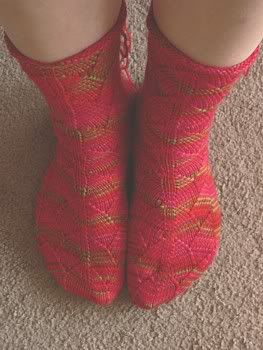 Pattern: Here There Be Dragons
Yarn: Knitpicks Memories, Geranium
What can I say? Great pattern, I didn't change a thing. Oh, except I used my usual no-wrap method instead of the short rows suggested. For whatever reason, Nancy Bush's method gives me holes no matter what I do. The yarn is nice and soft and finally out of the stash. I've tried to use it several times and never liked what the yarn was doing. This pattern made great use of the pooling and broke it up. Below is a much better representation of the color. For some reason the color combination confuses the heck out of my camera!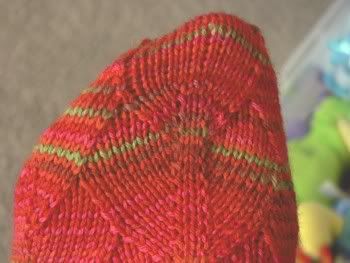 Long time readers may recall that I went through a bit of a lace obsession last summer. (Very temporary. My lifestyle just doesn't do lace well.) Well, I've had one project that needed to blocked, I just never got around to it. I mean, why block it if it's never going to get worn? Well, I need it for tomorrow. Someone's getting married!!!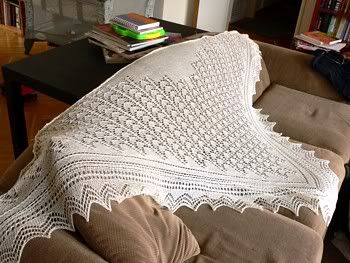 Pattern: Snowdrop Shawl
Yarn: JaggerSpun
Another great pattern. Not too challenging, but with enough interest to keep me knitting. Nevermind that the edging took foreeeeeeeeeeeeeeeeever. Blocking didn't go as well as it could have. I ran out of room on the carpet and little ones were getting tired of me saying "one more minute!" I think that I need to invest in a set of blocking wires so that when I do have things to block, it goes much nicer.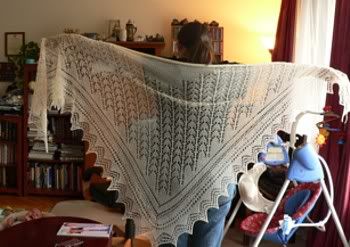 My, it's huge!!!