When I bought my wheel I had opted to buy the complete package that is offered with the Lendrum. This set up gave me room to grow by including a fast flyer and a bulky head. I'd used the bulky head for plying but hadn't needed to use the fast flyer for anything. I'd been able to get the yarn to the desired twist without requiring faster ratios.

Recently I became enamored with the long draw in an attempt to speed up my knitting. I found an ebay seller carrying Spinning for Softness and Speed and ordered it. Though, the technique described in the book is a little bit different than a traditional long draw, I read through it and applied some of the basic principles. One of te first things I noticed that I needed the fast flyer and may need to invest in the very fast flyer.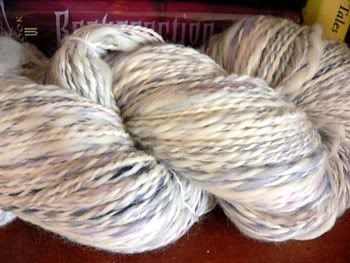 My first attempt. Meh.



Progressively as I spun it became easier and better. Only direction to go is towards success! Next I pulled out some merino/mohair that I had gotten a few months ago. I figured this was a good roving to continue practicing long draw since I really didn't like the colors in the roving. The picture I had bought from showed beautiful, soft muted colors, what I got where garish and loud.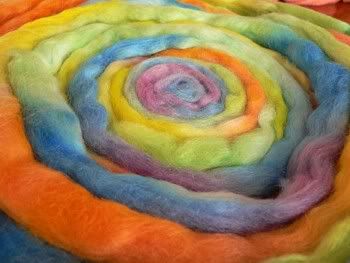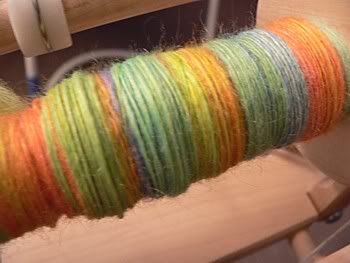 Not only were the colors pissing me off, but the roving had been felted in the process. Drafting was a complete nightmare despite predrafting to the point of the roving nearly falling apart. What to do, what to do. I pulled out the hand cards that I had just received in the mail last week and got to work. I seperated the colors out and put the blue, yellow and green in pile and the purple, gold and orange in another. After a about an hour I had these fluffy, gorgeous rolags from the first color group.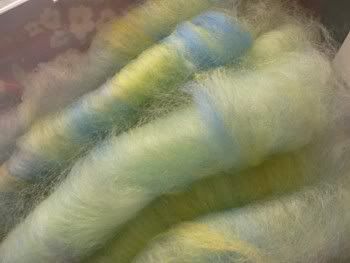 The spinning? Wonderful!!! Long draw is made for carded fiber. Granted, I still need practice, but it just keeps getting better. I guess it's a good thing I have a fleece on it's way.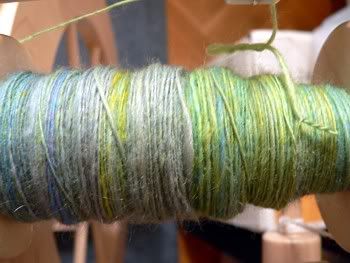 In the interest of full disclosure, I've been bad. Royd's last week here and first week gone I was a bit depressed about the whole thing. So, I did a little internet shopping. Let me tell ya, Paypal is evil! No reaching for your wallet to make you think for another minute about what you're doing.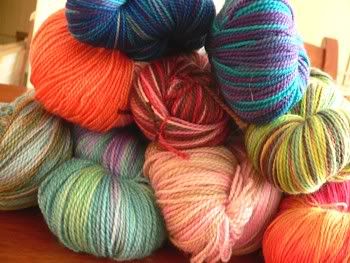 there's more on the way...