I hope ya'll didn't come here expecting a finished knit, cause it ain't happening! Instead of just sitting down and picking up those previously mentioned projects, something new landed on the needles.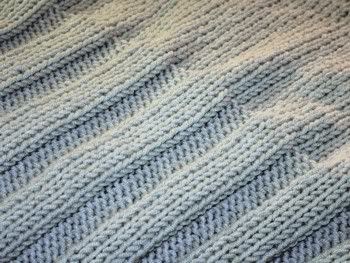 This is quickly becoming Scoop in the Gedifra Wellness I got for a steal a few months ago. So far I love working with the yarn; it's soft and squishy. It does split easily so I had to switch to my Susan Bates which have a nice blunt tip and scoop the stitches perfectly.

I can make no promises as to when I'll return to the other sweaters. Probably when I'm bored with this one. I refuse to have more than three sweaters on the needles at a time, so eventually one of them will get finished.

I also came to the conclusion that it's a good thing no one has answered my desperate plea for coupon codes to Kpixie. See, Keri asked that her readers do a little stash flashing. I had already pulled out a few tubs in anticipation of a organization of sorts and thought why not. Lords, I scared myself! I only took two pictures and had to stop.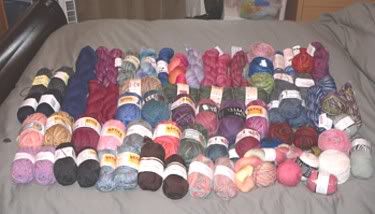 This is most of the sock yarn and below is most of the sweater projects.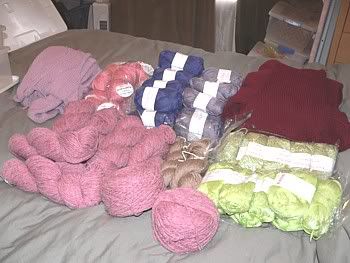 I've also have enough for three adult sweaters hidden somewhere within the other four bins. Within those are the random single skeins, the lace yarns, the handspun and enough for quite a few kids sized sweaters. Yikes! Time to get those needles flying.

Confronted with this, I made a promise to myself that 1.) I must finish what's on the needles and 2.) start another sweater with some of the stash before I'm allowed to order anymore. Boy, this going to be hard. I really, really want to knit this: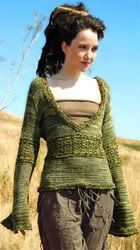 I got the pattern last week and have been on a search for an acceptable substitute. There's no way I can spend that much on one sweater! So, in the meantime, I'll knit with what I have and watch the knitalong to see what other people have success with.

Any guess until how long I can be faithful?