** We didn't get to go on vacation as planned. Here's the rundown of why. First we all got sick. Just when we were feeling better, all the boys came down with hand-foot-mouth disease. Since Marc's mouth hurt, he wasn't eating very well. I got a blocked duct that lead to mastitis. Ouch! The antibiotics I'm on killed everything and now Marc and I both have thrush. Oy. I cannot wait until I don't have administer medication.


Thankfully, we still got to see my in-laws since they headed up here instead. Plus Royd didn't have to miss out on time with his dad.


** I finished another pair of socks for a belated birthday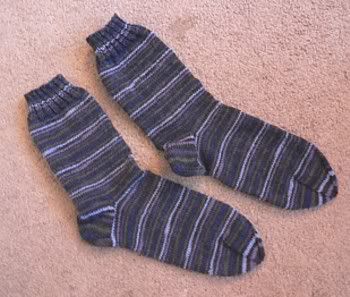 Yarn: Regia Strato
Pattern: top down on 64 stitches, band heel and round toe
** I started another pair for myself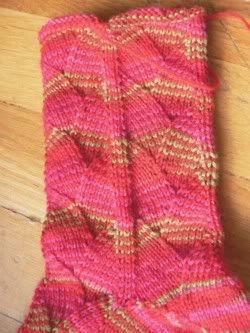 ** Thanks to some cooler weather the past few days, I've been working on the Manly Sweater again. Two sleeves down and now onto the enormous body.
** Remember Picovoli? Well, I lost about ten pounds since then and it's too big! Yay for a skinnier me. Boo for all that work.
** I've got two babies to knit for that are due in December. The great news is that they're both girls and I can finally knit something cute and pretty.
** Royd should be gone by next week. We're just waiting. It stinks.
That's it for now. Sorry about the choppy post. I've got screaming children here and can't think straight.