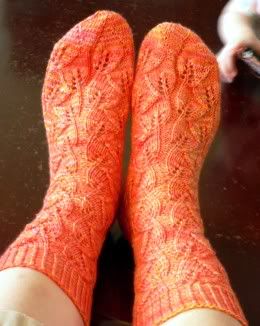 Pattern: Embossed Leaves from Interweave Knits (I think Winter '05)
Yarn: Fleece Artist Merino Sock in Peaches and Cream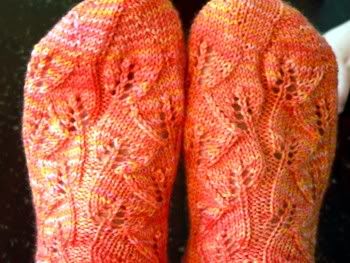 What can I say, it's a great pattern. I did make a few modifications though. First, I didn't do the cast on method as written. I tried it and it was just too tight even after doing it again with a larger needle. I reverted back to the long tail cast on and although it doesn't look as pretty, it's got enough stretch. Second, I did the heel just a bit different. I didn't read the pattern right and messed up, but it was an easy modification that resulted in the same look. Since these are to be gifted away, they will be blocked later on for a prettier presentation.

I'm still mulling over my choices for the rest of the socks to be made for gifts. Surely there will be another pair going on very soon. That is, as soon as I finish knitting Scoop. I'm on the last sleeve and expect to start the finishing details tomorrow. I ordered some buttons and they just shipped yesterday so it'll be another week or so until I can get that far.

In sadder news, we lost two soldiers over the weekend and it's been a bit sad around here. Please keep their families in your thoughts and prayers. Thank you.