What's the best way to celebrate the casting off of an extremely large sweater? Why, casting on for some extremely large socks, of course!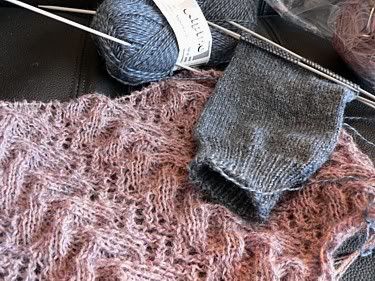 The yarn is a lovely mouline with three strands of different blues and one grey that I had bought last summer. I'm just getting around to knitting them up.

That purple shriveled mess is The Print O' The Wave Stole. When the pattern first became available, I printed it out and put it into the stack of possible knits. There it sat languishing while other things were casted on for. Well, Keri announced that her and Angelika were knitting it and said that I just HAD to do it too. :)

So, what you see is nine repeats. I'm using Alpaca Cloud from Knitpicks in the Iris colorway and I'm double stranding it. Initially I had started with a single strand but it was just too airy for me. I'm sure that I'll have to take out a few repeats so it isn't too big, but I'll worry about those numbers in a few days. Also, I'm not going to do it in two pieces. That seam line just looks too funky for me.

I think that maybe I shouldn't even be posting today. I'd had a great post in my head yesterday, but now I can't recall a thing I wanted to say. Between an average of five hours of sleep for the past three nights, the gloomy sunless day and three cranky boys, I think that I need either a pot of coffee or a babysitter so that I can sleep. I can not wake up!

Well, I hope everyone else has an energy filled day!