Pattern: Gentlemen's Fancy Socks from Knitting Vintage Socks
Yarn: Mountain Colors Bearfoot in Crazy Woman (I think, I lost the band)



These are the replacements for the cabled socks from last week. I only used the stitch pattern for them, substituting my usual heel and toe. My gauge was also different so I only worked them on 56 stitches. A nice fast knit!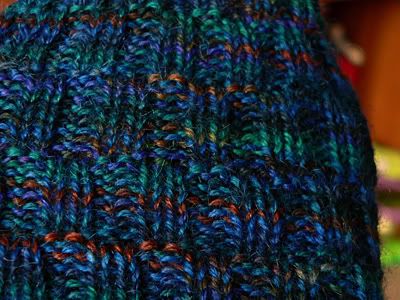 Closeup of stitch pattern and better shot of the color



Whew. It's been one of those weeks! I had let a lot of things build up and with the news I had received on Monday, my body revolted. I've since spent the entire week with my behind planted on the couch with an excrutiatingly painful back. Tylenol and antacids have become my best friends. One might think that this equals quality knitting time, but at times it hurt just to be awake. Thankfully, it's feeling somewhat better and I'm able to get around the house easily. I'm not pushing it though, I don't want to overdo it.

Thankfully, I've received a few things in the mail that have helped keep my mood in good spirits.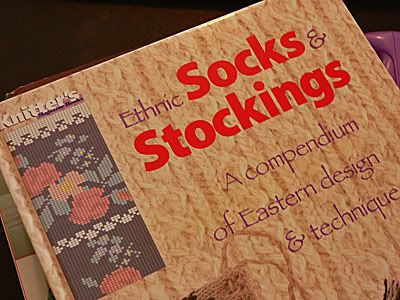 This book was a present from my hubby. For no reason either! Honestly, I think it's to butter me up for something. :)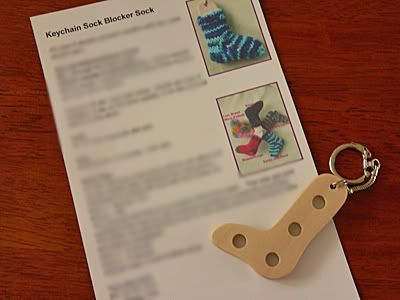 Isn't this too cute? Keri sent me a little package with a few knitting themed gifts and I love everything. Especially the chocolate that is now gone... Thanks Keri!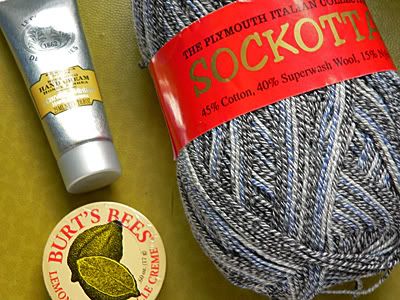 Awhile ago, I had won a contest on Kim's blog. She had just moved to a new town and was in the process of getting their house finished so I wasn't too concerned when I didn't receive my prize right away. Actually, I had kinda forgotten all about it and was quite surprised when I opened up the package. Thank you, Kim, I appreciate it!