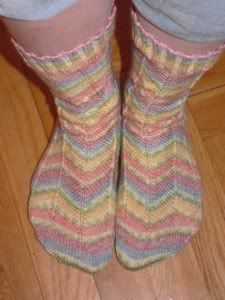 Pattern: Jaywalker
Yarn: Wolle Rodel Sport & Strumpfwolle (70% wool & 30% silk)
Yay, finally done! They only took me almost four weeks, a new record for a pair of socks for me. Initially I had started the smaller size and had been halfway done with the foot. After repeated try-ons, I concluded that they were just too tight. Soooo I ripped and restarted with the larger. Now, they're a bit loose in the ankle but at least I can get them over my heel.
Yes, I'm aware that this yarn looks like Opal Petticoat but it indeed is not. I've noticed that Wolle Rodel does alot of knock-offs at a slightly better price. It's always fun to go in at the beginning of the season and see what you might find.
Now I'm onto some deadline knitting. Royd goes to the field in three weeks and put in a few requests. The helmet liner I had made him was kind of a test knit. After it was finished he wore it around and we both figured out how to improve upon it. The neck portion will now be 8 inches vs. 6, a provisional cast on will be used for the hat part and there will be more decreases around the face in the final ribbing. I'd love to show you what I mean, but there is something screwy with the picture I took. I'll have to get another one.
He also wants a pair of socks. No problem right? Uh, he wants the legs to be between 14 and 15 inches. Thank goodness the yarn I'm using is sportweight (also the same as the hat) and will make it go a bit faster.
Wish me luck. All this black yarn is starting to make me blind. I need color! Any guess as to how long it takes me to break?