A common theme among many blogs in January is The Stash. I had previously mentioned that a goal this year was to stash smarter, not quit altogether. That's why I didn't join the Stashalong. In all honesty, it would be silly of me. For one, I rarely go to the yarn store. So when I do, I feel that if I see something I like I'm allowed to go ahead and get it. Second, my yarn allowance isn't all that huge. Therefore when a sale comes along with a yarn I've been wanting I go ahead and get it.

What's my point? Well, I have to do something other than stash smarter. It just keeps growing and growing despite efforts to keep it contained.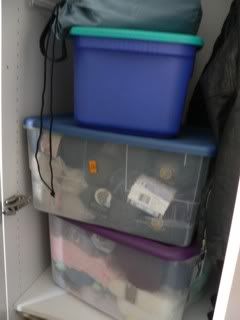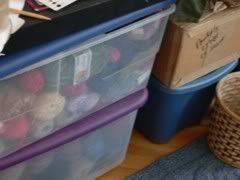 Okay, I know it's not that big compared to some of you...
Recently Royd and I tried to organize the "wool" room because we need fit a bassinett and changing table in there in a few months. Just sitting there in front of it all made me realize that it's too much. So I started going through it, seeing what was what and all. I discovered that I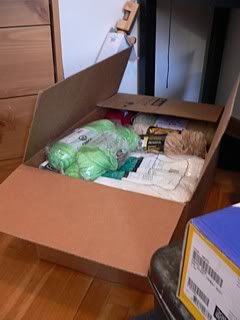 have tons of acrylic that I will never use. I had been hanging on to it to knit for charity. But, with four boys* to knit for, I really won't use all of it anytime soon.
This is what I pulled out that I have no intention of using. It'll be packed up and sent to a charity in need sometime soon.
Now what to do with the rest...

I figure there's at least five sweaters worth for me. Then there's the sock and lace container. I've discovered that most of the rest is odd balls of two or three. Enough for mittens or a scarf, but not much else.
What I did pull out was enough for four children sweaters.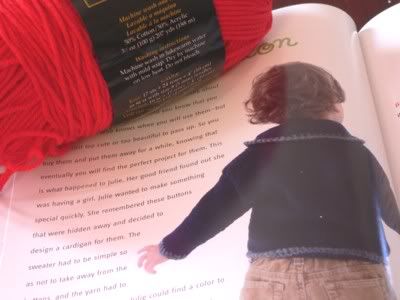 Three balls of Cotton Ease for this cute little number. Of course my gauge is off, but it'll be easy to convert. I just need to find something for the trim.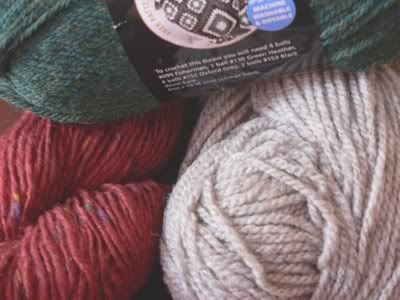 I have three each of these. Green Woolease for maybe a rollneck raglan. Red Tahki Donegal Tweed for what I'm thinking might be a great little cabled cardigan. No patterns yet. And then there's the greyish yarn from Carodan Farms. I think this would make a nice gansey.
Obviously I've got a lot to plan out**. And I still need to make the baby something!!! Don't worry, the yarns on it's way.
And in case you're wondering how the sweater is coming along, I have a back, the left front and half a sleeve done. Here's a shot of the cabley goodness: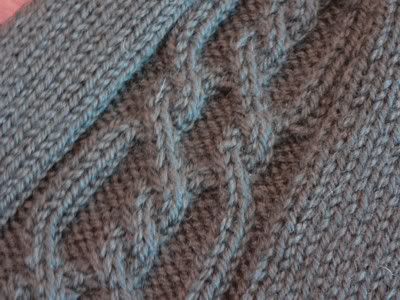 *Yeah, you read right. It's another boy.
**Can anyone recommend a book or pattern collection that has some really nice designs for boys 4 and older? Since I don't have a local bookstore that's in English, I really need some help!