Yarn: Super Sport Strumpf 6-ply
Pattern: my own
I took a picture of them with a twelve inch ruler for a sense of scale. These babies are huge! Most importantly, he loves them and has asked for more. I told him that I'd be happy to oblige, but not right now. I'm kinda burned out on stockinette in black yarn.
The Helmet Liner? That's done too, but I have to wait for a modeling.
I have to admit, I wasn't completely faithful to his stuff. I needed something to stimulate my mind. Enter the Selbu Mittens, from Folk Mittens.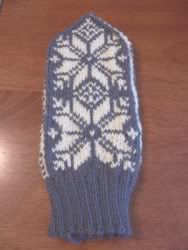 Can you spot the mistake? I'm not fixing it. I'm also having major tension issues, but I suppose that comes with lots of practice. Not that I mind, I'm having a blast knitting these. I could use some suggestions though with one thing: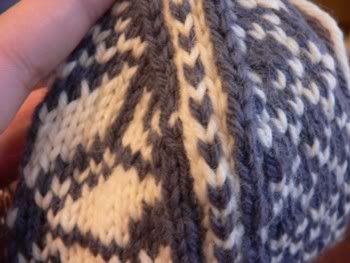 This is where I change needles. The last stitch is puffy and the first on the new needle is practically lost. I'm wondering how much this will work itself out in blocking or if there is something I should be doing. Any ideas would be greatly appreciated.

In other news, I signed up for this knitalong. One sock a month for six months. What could be easier when I don't have to do anything special for it!