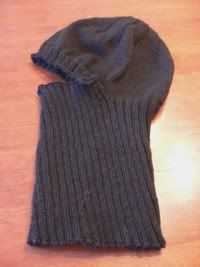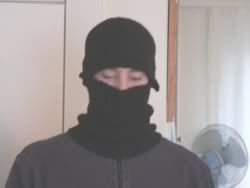 Yarn: Sport and Strumpf 6-ply, black
Finally, I managed to con Royd into modeling his new helmet liner. Unfortunately I could only manage one picture before he took it off. I guess you get the idea of what it looks like.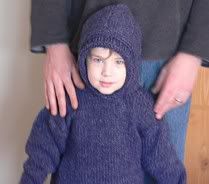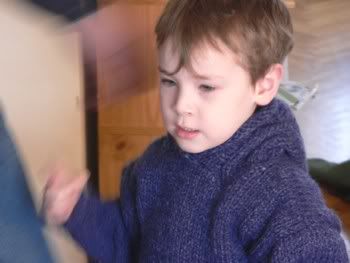 Yarn: TMA Quick and Easy, 100% acrylic
Pattern: Lion Brand Hooded Knitted Sweater
Reilly ended up with a new sweater this weekend. I had to put the mittens away so that I wouldn't be distracted by them so that I could finish this up. I'm sure ya'll know how bad I am about seaming and all... He of course is delighted. Yay for four year old enthusiasm!
I may have also started a few new projects. Personally I like having my next major project already in the works for a seamless transition. I hate that feeling of "Now what?"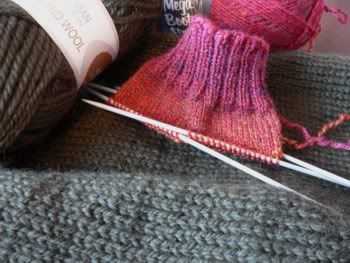 Of course, a sock in Lana Grossa Mega Boot Stretch. Then we have Twist in Elann Peruvian Highland Wool. The yarn and the pattern have been sitting together on a shelf for quite awhile now, just waiting for their turn. I'm happy to say that after two days, she's shaping up nicely and I should have a finished back by tomorrow evening.
I feel like I'm forgetting to talk about something here, but it's time to start dinner and I guess it'll just have to wait for next time. Until then!