Thank you everyone for your nice comments on the Opal socks and all the well wishes for a wonderful weekend! I meant to respond, but then, I'm so far behind I just figured I'd start over.

Our weekend ended up being very nice, if not expensive. Friday and Saturday was spent at both the local PX and the big one in Wurzburg getting things he needed/wanted. Me? A candle. On Sunday Kathleen drove over and we headed downtown to the Fishmarkt. It's essentially where different vendors sell a predetermined amount of goods in a basket for a set price. What's in the mix is what you get. Last year we had a great time, but this year it coincided with a Sunday store opening* and it was mobbed. We grabbed some food from some vendors and wandered away from the mayhem towards the other shops. Yes, I mean the wool shops....

I was good and ended up with only four balls of sock yarn.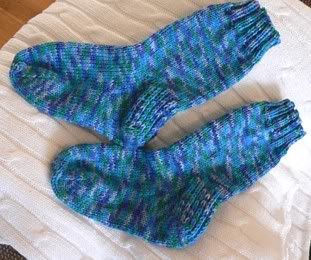 Yarn: Wolle Rodel Sport and Strumpfwolle
Pattern: My standard top down on 48 stitches
I whipped these up this weekend for Reilly. I really like this sock yarn It's slightly thicker with a suggested gauge of 7 stitches per inch and works up very cushy. I had bought the yarn with the intention of making a pair for myself, but the ball band suggests two balls for an adult foot. I only used half of it (50 gms left) so I could have made them for me. He really likes them, so I guess that's all that matters.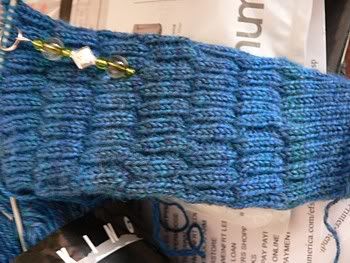 I'm rather enjoying the socks again and had to start this beauty. It's the Gentleman's Fancy Sock from Knitting Vintage Socks. When I first got this book, this was the only pattern that I knew I HAD to knit. I'd kinda forgotten about them in my manic sweater phase. But Kathleen started a pair and showed them to me and the interest was rekindled. I'm using the Trekking she brought last weekend and I'm really liking how it's coming out.
Mariah? Halfway done with the hood and then the blocking shall commence...
*Stores in Germany are not open, requiring a special permit to do so. Twice a year they're allowed to open for business and it gets quite busy.