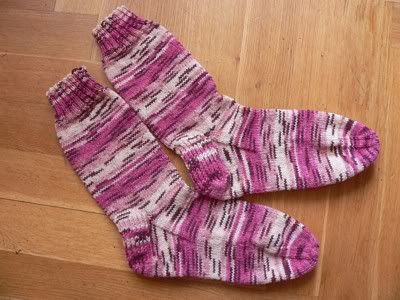 Yarn: Opal Rainforest, Flamingo
Pattern: My standard top down on 64 stitches
The strawberry cheesecake icecream socks are done and now I'm seriously craving some icy cold treats. This was my first time working with Opal and I can't say that I'll become a die hard fan. I found that the yarn had no sproing whatsoever and this led to extreme laddering. Granted I always get some, but it's really bad! I haven't worn them yet, so after that and a good washing, I'll decide for sure what I think.
The Koolaid dyeing I did last week turned out to be a disaster. I forgot the vinegar and almost all of the color ran out. I know that some people say that you don't need vinegar, but I have never had bleeding this bad. I finally gave in and ordered some Bearfoot in the same colors I had been trying to get. Since my order hasn't even shipped yet, I started on another pair of socks. This time I'm making a pair for Reilly and he picked out the colors: purples, blues and greens. (He also reminded me that he needs a new hat.)
I found the best solution for my second UFO for the Lent along. After a year and a half it was time to deal with this unfinished Clapotis: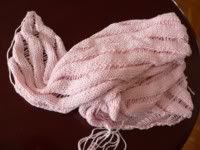 I turned it into this: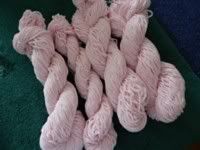 Perhaps this is cheating? Well, I never liked the dimensions of it; I made it way too skinny. And then the yarn was all wrong, the stitches too loose and the twisted ones looked very wonky. So it's been reabsorbed by the stash until I find another project that will work out better. I'm happy with the decision and if it weren't for the Lent Along, it probably would have sat there for another year and a half.
Royd got home last night! He arrived in town late yesterday morning and we fully expected him to be released mid-afternoon. At almost five o'clock he called to say that he had just found out that he couldn't come home until everyone in the battallion was back. They were still waiting for an entire company that wasn't expected for a few more hours. So much for dinner! At nine I heard the tanks rolling down the street and knew it would be quite some time until he got home. Finally, at one am he walked through the door.
This morning both the boys were delighted to see him before he had to go back to work. Thankfully we have a three day this weekend to play catch up before his schedule gets crazy again.