Thank you for all your kind comments regarding my last post. I'm okay and will be during the deployment. It's just the kind of news you can never prepare yourself for, regardless that you knew it was coming.

Anyhoo, I'm choosing not to dwell on it right now and focus on other things. Like wool!!!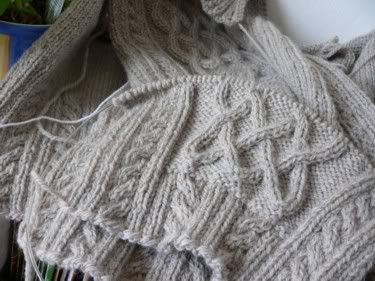 Three pieces down, two to go. So far I've gotten the back, one sleeve and the left front done. I opted to not go in the order in which the pattern called for to break it up. Since the sleeves take about three days and the other pieces only a day, it's all about perceived progress. Hopefully by next week I'll have all completed and can start the yoke.
As much as I love how this yarn (Patons Classic Merino) knits up and the color I chose, I'm craving color. Any color. If you hadn't noticed, I'm kinda in a sweater mode right now and haven't touched a sock since my New England disaster. Rooting through the sock stash, nothing quite inspired me (though I am eyeing some online for my sock pal!).
Well, sitting next to that bin are the rovings I just ordered. Since I haven't started spinning the next batch of Maple Sugar, the bobbins are free. Yes, they call out to me to fill them! Before you know it, eight ounces of Cotswold are being pulled out and prepared for their destiny.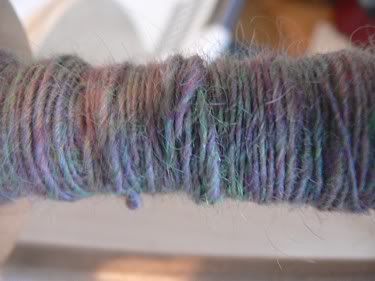 Meet Plums and Berries from the friendly folks at Nistock Farms. What a completely different experiences this is than all my prior ones. The wool is course and prepped into fat fluffy roving. The singles are quite hairy, yet so shiny. I'm excited to see how they ply up.
Well, looks like I have an exciting weekend planned. Hope yours is just as wooly!