I can't say that much is going on around these parts lately. Honestly, I'm only posting because I've had pictures ready for a few and I'm bored. This doesn't happen all that much and when it does I feel useless. Sure, there's lots that I could be doing...

So, I've been cooped up in the house this week with sick little boys. Marc started it all on Monday, Connor last night and Reilly this afternoon. I'm just waiting for it to hit me. It's been threatening to take me down as I've been funny all week. It's almost like I haven't had any coffee in the morning and I get dizzy alot. On top of it I have no desire to eat and it's hot. Of course, there's a million things that need to get done this week. Oh well, next week's good too.

So, before they all got sick, I headed out to Kathleens on Sunday for a little companionship. These babies were waiting for me: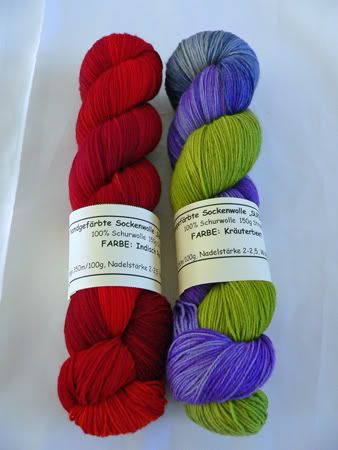 Super yummy Wollmeise in Indisch Rot and Krauterbeet



I wanted to try it out before testing out the logistics of getting it delivered to my building, (I wouldn't put it past my neighbors to make a package disappear if I weren't home) so we did a combined order. They haven't told me what they want to be yet. Instead they're keeping my desktop pretty. Plus at only 13 euros for 150 grams, it's a steal!

There's been quite a bit of knitting going on this week as well. Too bad I'm gonna have to rip it out. It's my own fault for not swatching and then knitting an entire sock. Yes, you may smack my hand.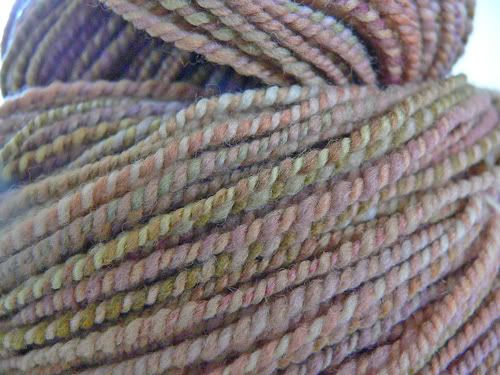 Fiber: "Flapper" merino from the Yarn Wench
Stats: 7.8 oz, 528 yards, approx. 11 wpi



The spinning is still going strong. Have another two bobbins that need plying and I started on some new stuff. Merino/tencel and a desired finished yarn of fingering weight make for some slow spinning.

Well, it's medicine time and someone needs some quality time. Have a great week!