My trip to the PO yesterday was awesome. It was just the perfect pickup I needed after a long week with the boys. I thought I'd share the goodies as a little Eye Candy/Yarn Pron Friday.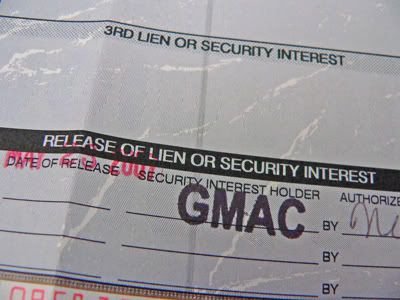 First up, the title to my car!

Woohoo

!!! Seriously, I haven't held one of these babies in over eight years. It feels great that I'm not carrying around that car payment anymore. At least not until we move back Stateside and have to get another car.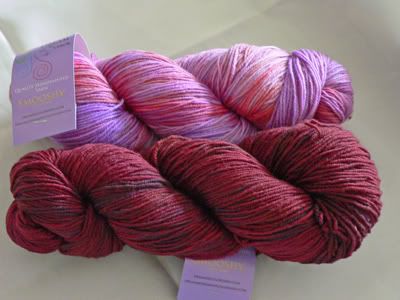 When I first heard about Dream in Color's

Smooshy

, I just knew I had to get some. A sock yarn that doesn't pool? Oh yeah. I'd done some searching only to find everyone that carried it online was sold out. Then Simply Socks Yarn Co. had some and I

immediately

grabbed some. Man was it ever hard to pick just two. All their colors look fabulous and I want them all.

Hey, anyone know what this "veil dyeing" is about? I am intrigued to say the least.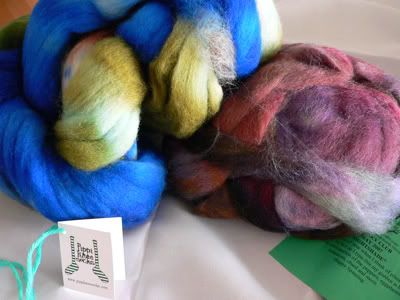 Moving right along. My monthly installment from The Spunky Eclectic Fiber Club in some

Coopsworth

. Love these colors! Also, some solar dyed Falkland from

PippiKneeSocks

. I always seem to miss out on the colors I like from her, but was on the ball with her last update.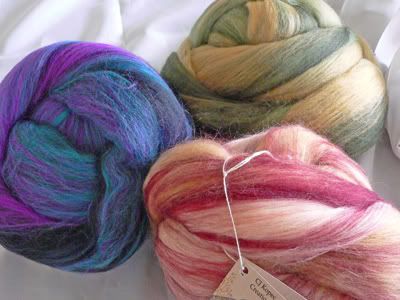 These fluffy balls of roving are from

CJ

Kopec

Creations. Yum! Great customer service and deliciously soft fiber. Oh, and for anyone having a military address, there's a special surprise included after you order.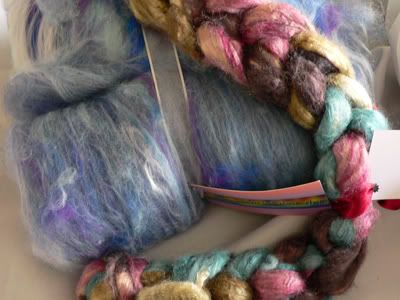 Another

Etsy

store find, String Theory Fiber Arts. I bought three

batts

of merino/cashmere/

tencel

goodness and some

tussah

silk. Double yum!

Speaking of

Etsy

, I've jumped

onboard

. It's something I've been contemplating for quite awhile now, but just was too lazy to do something about. Well, my spinning and dyeing efforts of late have put me into stash overload. I just don't have the time to use everything I create

ontop

of all the other commercial yarns I have. Not to mention that oftentimes once I finish spinning something, I'm finished. To me that's the final product. It's just a bonus when I actually use it. Come by my shop and check it out! It's

alittle

empty right now, but will be adding more as I have time to get pictures edited and uploaded. There's a whole pile just waiting if only the boys would let me get to it.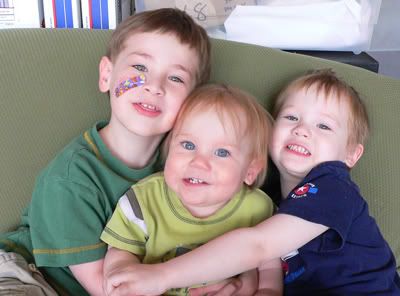 This one's for Lynne, who keeps asking for shots of the little monsters.

Hey, three post in one week? Just maybe my blog blahs are over! Have a great weekend!