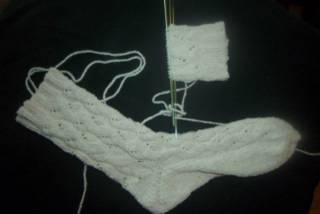 I love Fixation!

This is the best! Finished one and started the other. Tried them on and they feel wonderful! Just might have to order some more, not that I need more yarn or projects. Now, that I think of it, I do need another skein of KPM, so it wouldn't hurt to have a few balls in the package. Hmm...

Worked on the Tweedy sweater some more and got about four more inches. Hopefully tomorrow it will be nice and I can get a better picture. The last one didn't do it any justice. I've never worked on the sleeves at the same time, but am going to try it, hopefully it won't feel like it's taking forever. Already starting to get bored with and looking for a new distraction. Will work on the socks tonight and maybe by tomorrow I'll be more motivated.

So, I heard that blogging was addictive. I can now see why. Spent half the afternoon looking at others trying to get ideas and info. Now, if I could just figure out how to write my own text in the sidebar and I'll be set. Well, I already have learned alot so I guess that reassuring.

On a side note, the days of being heartburn free are gone. I think it was the chocolate chip cookies I made. Damn! I guess it's back to the old bottle of tums for the rest of the pregnancy. It was nice while it lasted.