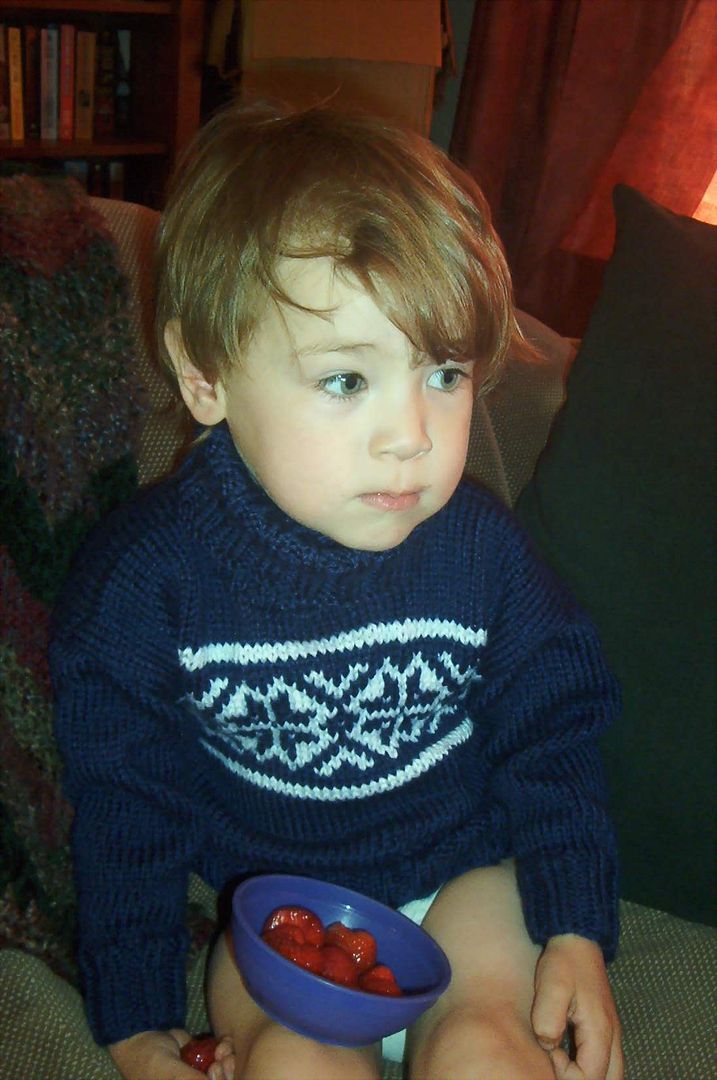 Here's Reilly modeling his newly completed sweater. I got this off of Rebecca Magazines' website and it's been sitting in my UFO pile since April. All I had to do was seam and weave. This was my first attempt at insartia and I'm pretty pleased with the outcome. Finally I was inspired to finish it Tuesday night.

Sadly, that's the last time I've picked up my knitting. I'm getting over a cold and although I'm feeling much better, my mood has been yucky. I haven't felt like doing anything, yet I am sooooo bored. On top of that, I have a million things to do! Mom will be here on Tuesday and I really need to get the house in order. I mean, it's a complete mess! Embarrassingly so. Hopefully, I'll be out of my funk by tomorrow and can get some stuff done. I don't know if I've ever mentioned this, but I hate housework and will skate by with the minimal amount required. That's probably why I can get so much knitting done!

I have added two more projects to my want list. First, I want to do the Booga Bag. I've had a skein of Kureyon waiting for it's home and this will be it. Although I need more yarn to do it, I've thought that I would do it in mostly either purple or green with the Kureyon in the center part. That way it wouldn't be too bright and flashy. Second, I have to have Clapotis from Knitty. I swore I wouldn't make myself any more scarves, but it's just too cool. Next week when Mom's here I'll go on a search for the yarn to do it.

Really I don't need anymore projects right now. I need to finish what I have started. I also am waiting for the yarn I ordered and those projects need to be done first. I think I need a knitting machine to help me along! Although I kinda consider that cheating, think of all that could be accomplished.

Off to heat up pizza and chicken strips for dinner. Yeah, that's how bad my funky mood is, I don't even feel like cooking.