Busy, busy week. Lots to talk about.

But first look what I got in the mail! Goodies from my SP! Thank you, thank you! I so badly wanted this pattern. I've already started looking for the perfect yarn for it. Also included were stitch markers (I have a fairy that steal mine), some wonderful soap, and a little purse for change. How did you know, SP? I've been looking for one to keep my American and Euro coins seperate. Perfect! Oh, this is soooo much fun!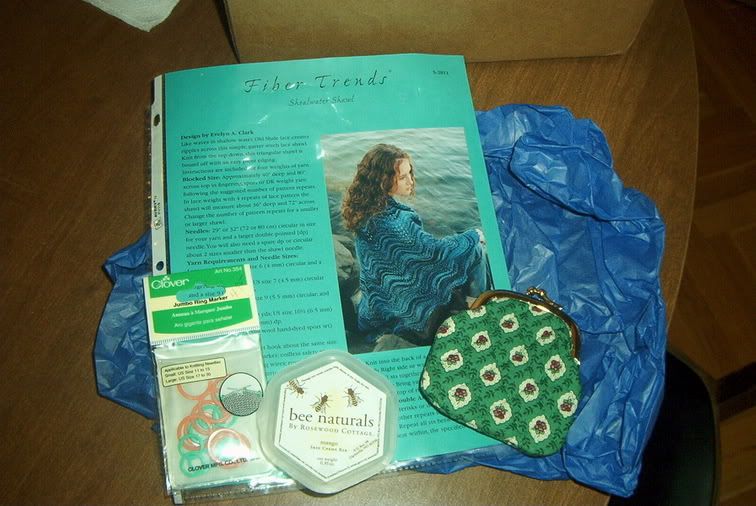 Next, I joined the Clapotis Along this morning. I had already started mine a few days ago and figured I might as well join too. Everyone's that I've seen so far are beautiful. I couldn't wait to start so I didn't order the Lorna Laces suggested. Instead I went to the LYS and found this beautiful Micro Color from Schachenmayr. It's very soft with a beautiful drape. Also, I am making it only about 12 inches wide but will lengthen it a little bit. Can't wait to wear this one!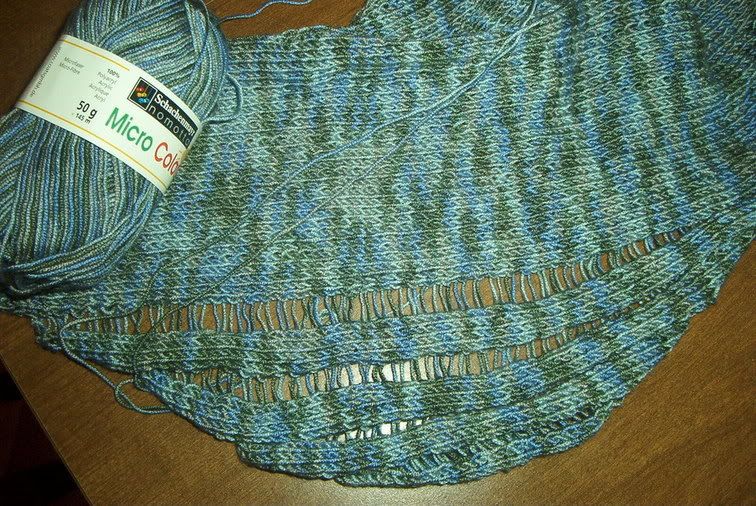 So, my mom's been here all week. She's been keeping me on the go, seeing things and shopping. She has friends that live here so we went to visit them in the cities they live in. One day was in Bamberg and one was in Wurzburg. Of course I checked out the yarn stores there! Didn't buy anything. Oh, wait, I lie. I found some sock yarn on clearance at a Muller's for one Euro each. So, I bought enough to make three to four pairs of socks. Yipee! Bonus, it was stretch.

You know, we've done so much, I can't even really say what it was. Ever get like that?

Anyway, she also brought me goodies from the US--knitting magazines and 2 skeins of Fishermans Wool. Now I can make my booga bag. Well, next week, that is. I'll be in Idar at the end of the week and this weekend will be spent sleeping on the couch. That is because I am wore out! I forgot how tired you get at almost 8 months. Everything starts to hurt after an hour on your feet!

Well, as much as I wanted to write, I think I need a nap. Next post might be this weekend, unless something happens tomorrow.