Isn't that a catchy title?

I finally got to meet Calissa yesterday. I had a great time and was very happy to meet someone new. I'd been visiting my MIL in Idar-Oberstein, and Calissa lives only 15 minutes from there. So, we went yarn shopping! Yeah!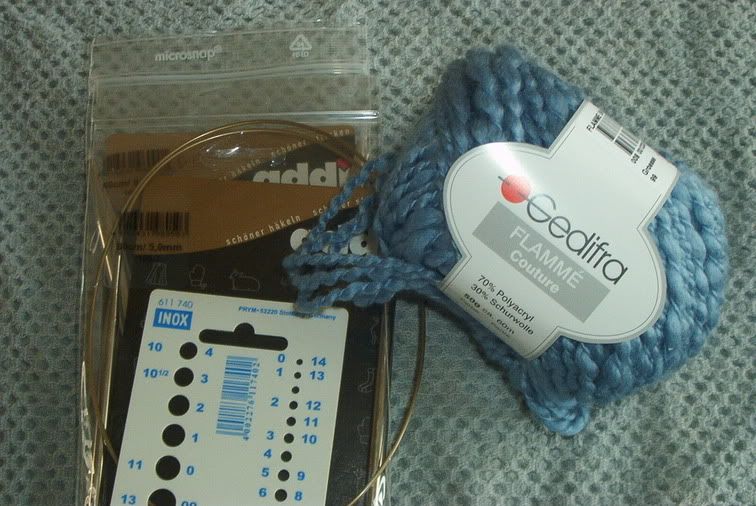 Here's what I got myself. Two pairs of Addis that were only about US$8, a metric needle check, and 15 balls of Gedifra Flamme(on sale). I also picked up some goodies for my SP, but I can't show that. I will tell you that it's beautiful stuff.

It was so nice to finally meet someone with common interests. We had tons in common--it was almost scary! I have a hard time meeting people that I have things to talk about with, other than children. So, meeting her was very refreshing. It's a pity that we live so far from each other though, about a 3-4 hour drive. I really wish we'd had more time to hang out. She was a really cool person. If you want a complete detail on what we did, go check out her blog. She saved me the trouble of writing it all down! Thanks Calissa!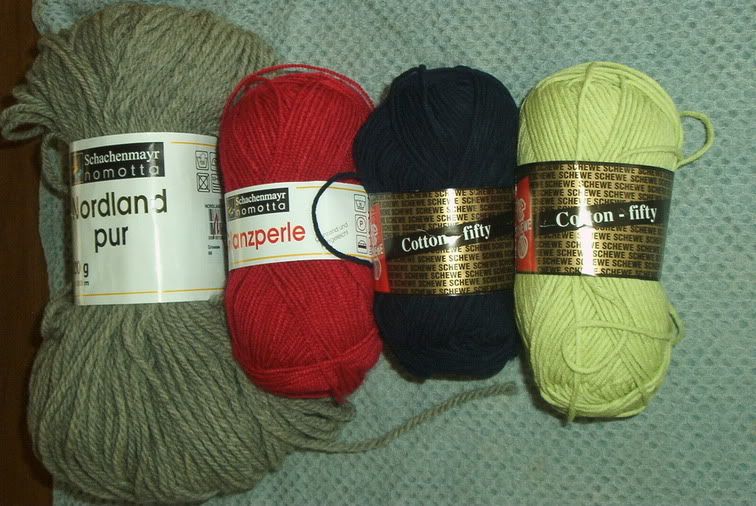 I also picked this up while there (thank you Karen). I've got two skeins of the grey wool to dye and felt, five of the red for a sweater for Reilly and enough of the blue and lime green for the baby. Karstadt was having a great sale and everything was less that US$2 each. Awesome!

All in all, Idar was great. I had a nice time visiting with my MIL--she's a really nice lady that I enjoy spending time with. The town was absolutely charming. Too bad I didn't bring my digital to show some pictures. I did get some on my regular camera and hope to get that developed soon. The town that I live in was destroyed in the war, so there aren't a lot of really old building to look at. So it was nice to be in a city that had that old world charm.

Finally, I got a letter from Royd today. He had written it for our anniversary and I loved it. It's funny, he has a hard time expressing what he feels in person, but can write the most beautiful things down on paper. I was in tears (sad and happy) as I read it. I needed it, especially after watching the news last night about all the fighting that's going on right now. Thanks hon, I love you--it was the best present you could have given me.

After having my mom last week and visiting others this week, it's nice to be alone with Reilly again. We needed a little quiet time to ourselves, especially him. As much as I love seeing people, it's always nice to have your own space too. I have planned this weekend to be spent on the couch and at the playground, with lots of knitting going on!