I mean really, look at them. I have to say that I'm impressed. Of course they're a present, so t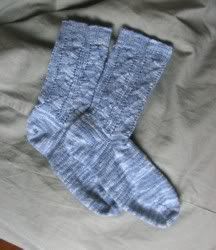 hey had to come out perfect. Not one mistake (that I noticed) and they would fit me too. No, I guess I'll give them away as planned. Besides, they need to put in the mail this week so that she gets them in ample time.

I think I may have found my next sock project though. I have been searching for just the right pattern to fit the latest batch of Kool Aid yarn. I found the Broken Cable Rib Socks on the Interweave Knits website this afternoon. I may be crazy though. The thought of all those little cables on 3 mm needles kinda makes me cringe, but I do believe the end result will be worth it. We'll see.