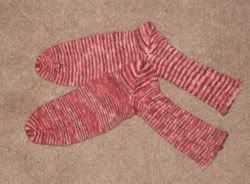 I finished these socks a few days ago from some sock yarn I had dyed with Koolaid last fall. It was my second attempt with it and wanted to see how it knitted up. I have now learned the importance of equal skein lengths. As you can see, one pooled and one striped. I find both attractive and will wear then regardless of their mismatchedness.
A few weeks ago I tried to paint some yarn. Ick! I hated how the colors turned out. So I dumped the entire thing into some purple and overdyed it.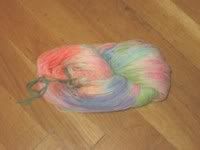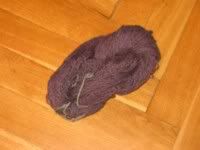 I've got alot of ides about color combinations for other sock yarns flying around in my head. All week I've been attempting to dye some large stripes of colors. I just need a good whole hour to wind the yarn appropriately and do the dyeing. An hour of alone time has not been happening lately. Don't get me wrong, I love my husband, but he really requires ALOT of attention!
In other knitting news, I am still making children's sweater for charity. The pink striped sweater's sleeves have been lengthened and looks much better now. I finished the green and brown raglan too. Almost. The neck opening turned out a bit on the small side. Since this is the cast on edge, I see cutting in my near future. That is, when I get the nerves to take a scissor out. While I'm avoiding doing this, I started another sweater...