The charity knitting is going very well. I haven't strayed as of yet. Not to say I haven't been tempted at all, I'm just sticking to my guns for now.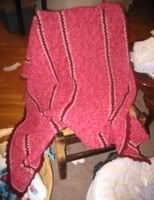 First up is the afghan (aka the Pink Monster) I made for Afghans for Afghans. Finally!!! All that needed to be done was the light pink border around each panel and then the burgandy final border. It may seem like not much but it took three days. I hadn't thought through how I was going to finish it off, so I ended up frogging the borders a few times until I got something that I liked. So glad to be done with this one.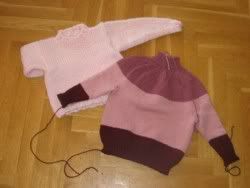 Next up are two sweaters that I'm making for the Dulaan Project. The light pink was done using a modified drop from the Knitters Handy Book of Sweater Patterns. This only took two days thanks to a 30" chest and 3 spi. The striped sweater was done using a top down seamless yoke pattern. I loved that there weren't any seams, but I didn't like the way the increases pucker. I also am not sure that the sleeves are long enough. My measurements add up, they just seem a bit short so I'm thinking that I'll probably undo the ribbing and add another inch or so.

Next up is a top down raglan in green and brown. I'm still fudging with it, so no pictures today.

In other news I forgot to mention that my sock pal got her socks and reports that she liked them. I knitted for Angela, who is coincidentally only about two to three hours from me. That was part of the reason I had such a hard time finding sock yarn for her. The selection of yarn over here isn't vast like it is in the States and many stores carry the same stuff. I had wanted to make her something she wouldn't have had LYS access to. I'm just glad that she liked them and that they fit. Now that the anticipation is over, I can say that it was alot of fun to knit for another knitter.