I can't quite focus on anything the past few days. I'm feeling a bit uninspired and blah about my current projects. The Snowdrop Shawl is progressing slowly-only three more repeats. Then I pick up the 436 stitches for the edging. Yikes! I think I might be able to get one row done a day once I get there.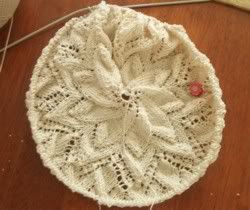 Speaking of lace, I casted on for doily I talked about last post. I'm on round 58 of 76ish. Can't find the last page right now, so I'm guessing that's about right. Now that I moved it to the circulars, I can really see the pattern emerging. I also think that I bought enough of the yarn to make 20 of 'em.
Once I got the thrill out of this one, I rummaged through my stash for a little mindless knit. I pulled some brown tweed and casted on for the Irish Hiking Scarf. It's going to be a Xmas present for someone, I just don't know who yet. It's never too early to start thinking about these things.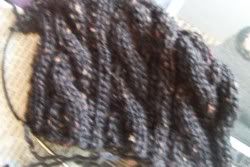 Next, I'm swatching the Silky yarn I got on Saturday. I got suggested gauge right on and it also corresponds with the pattern I'm thinking of doing. The fabric isn't as drapey as I'd hoped, but when I moved up to a larger needle, it didn't look good. I'm going to have to sit on this one for a few days.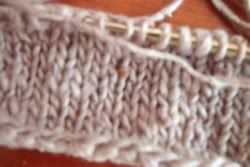 I'm so sorry about the crappy photo quality. I still haven't sent the camera to be fixed. Royd and I had a serious talk about the camera and agreed that we're going to get a new one. We'll send the broken one to be fixed, but we need another one that can do more. With all of the traveling that we're doing this summer, I'd really hate to take crap pictures, only to kick myself later. What we're looking at is the Panasonic DMC-LZ2 or the Panasonic Lumix DMC-FZ20K. The two cameras are very different in what they can do and portability. Oh, the decision!
Speaking of travel, we're off to spend the weekend at Edelweiss on Friday. The hubby signed us up for a marraige retreat sponsered by one of the chapels. We get free rooms, meals and child care and the only catch is that we have to attend a few classes each day. No problem. Hopefully three days will be long enough.
One more thing: if you've emailed me, have faith, I'm not ignoring you! The computer was acting up Sunday and Monday and I've got a mountain of emails to get through.