... since I made a pair of socks. Not really, but it feels like it. My fingers were just itching to play with the last batch of yarn I dyed. I'm using the Waving Lace pattern from the Spring '04 Interweave Knits and I love how they look.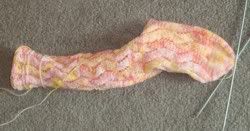 If I had had to dye this yarn again, I would have put less yellow in. It's just a tad bit too much.
Since I'm still loving those socks, I signed up for this:

You know I just couldn't resist. I know, I know. I did some serious stressing last time, but I think that this time will go much better. Now, I'm just anxiously awaiting my sock pal's info.
Okay, I will continue to knit the Hanging Vines Stole in the current yarn. I've gotten a few more repeats done and it's starting to grow on me. I don't anticipate this going quite as fast as the FBS; I can't seem to wrap my head around the pattern repeat yet.
Other than that, not much is happening here. We are planning to move both of the boys into the same bedroom this weekend. Reilly's room isn't exactly big, but he's got way more space than he needs. Connor's room is tiny and essentially a waste except for his crib. So... Royd and I had a brilliant idea to steal Connor's room from him and turn it into a hobby/extra stuff room. Now, I can finally get all of my yarn out of the dining room!