It all started so innocently enough. See, there's this doily I want to make, named Egeblad from Yarn Over. I didn't have the yarn and didn't want to go to the yarn store. So, we drove to the PX in Wurzburg yesterday. I had a slight problem: the pattern didn't say how much yarn was needed. I picked up five of these: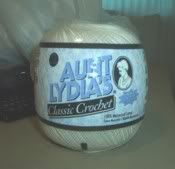 I figure I'll have lots left over (there's 1000 yds in each!) to make another down the road.

When I got home and started rummaging through my needles I remembered something. None of my smaller needles match up. All the dpns are in standard metric sizes and the circulars are in US. Yes, a 1/4 mm is a big problem for me. Hmmm. I guess a trip to the yarn store IS in order.

Here in Germany, all the yarn stores put baskets of various yarns in the front. I guess to tempt you to wander inside to see the other goodies. Well, this one happened to have a TON of sock yarn sitting there calling out to me to dive through them. I did.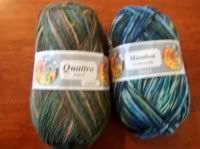 These two were attached to me when I came up for air. In my defense, they're not for me. See, I kinda got that pair of socks to make for my sock pal. (S)he happened to say green is a favorite color. I'll see how these knit up and see.

I make my way into the store, get my needles (I thought three various sizes would be good-just in case) and head to the buttons. Ten minutes later I find some that look like they'll work with Connor's Aran sweater. So, I then mosey on up to pay. Whack. There it is. A basket I've missed. A basket that I've seen before and had forgotten about. I stop to pet the yummy, yummy yarn and something catches my eye.



SALE 2 EUROS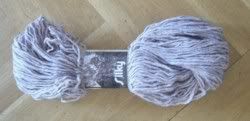 Uh oh. Um, this yarn used to be 7,95 or something like that. Ladies, we're talking 55% silk and 45% viscous. Slubby singles with a very light tweed effect. Pretty spring colors in blues, greens, pinks, and purples. How could I not???
I got seven.
I might need more.
There's tons more.
As I was piling these onto the counter, Royd appears at the door and asks, "What the heck do you think you're doing? That doesn't look like needles!"
He so does not get it.