I found my dining room. Underneath the piles of books, magazines, bags of yarn and UFO's, there really was a dining room table. Funny, I only usually see it for about an hour for dinner. Everything gets shoved off to the side while we eat and then it gets thrown back on.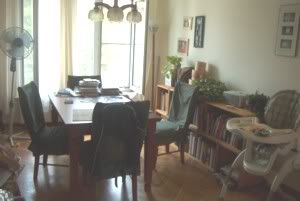 Still a work in progress, but notice the lack of yarn.
This can only mean one thing: I have a craft/hobby room! Woohoo!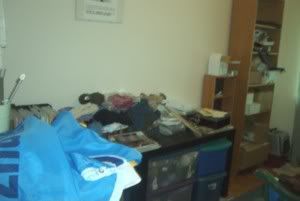 This is soooo not done yet, but you get the idea. I've got a place for everything to be stored within easy reach; no searching. Royd wants to know where his modeling stuff goes. I'm working on it.
While I was moving everything around, I started flipping through some of the masses of magazines, trying to decide whether to keep or toss. Look what I found and had to immediately cast on for: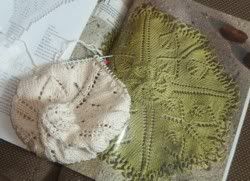 This is the Twelve Little Leaves doily from Knitter's Magazine, Spring '04. I'm using some fine cotton yarn from the stash that I picked up last summer from the local Wolle Rodel. It's quite firm yarn, but knits up nice and soft. I had the hardest time getting it started. Eight stitches on four needles proved to be disastrous. I kept twisting the stupid needles or dropping them entirely. Finally, I worked the Magic Loop method for the first six rounds and then switched back to the dpns. Much, much better.
Actually, I took this picture yesterday in hopes I'd find time last night to post. This morning I finished it and now it has been added to The Finishing Pile.