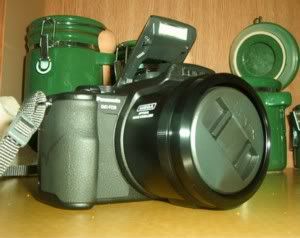 I did it! I got the camera I wanted. Well, not really, but the one we were looking at. What I really wanted wasn't even close to my price range. Can we just say that the military isn't exactly compensated the greatest. Okay, that's another whole subject that we won't even get into.
Anyway, I ended up picking up the Panasonic Lumix DMC-FZ20 this morning. I ran to the local PX to check to see if they had it in stock because I really didn't feel like driving back to Wurzburg. It wasn't on display, but since they're having a Panasonic promotion this weekend, I thought that they might have it in the back. Sure enough. The sales guy had to ask me if I was sure, on account of the price. I guess I looked poor this morning. No makeup, hair in a haphazard ponytail and wrinkled clothes. It's been one of those days so far, I'm not usually so bad about leaving the house in unacceptable attire.
Two hours of charging the battery and then I can start playing!