Goodies awaited me today at the mail box:


I got the Sampler Afghans pamphlet to make, well, ya know. It's an attempt to use some burgundy acrylic that just sits and takes up space in my stash. The rovings and spindles came from Annie May's (thanks Rachel for the link). The olive green is some colonial wool and the small balls came with the spindles. I needed a new one and saw this package deal and couldn't resist. Plus the samples are silk blends. Yum. I think it's safe to say that I now have a spinning stash.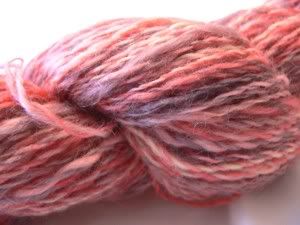 This is the Kool Aid dyeing I did last week. I'm almost done spinning it and then will start a sock. I'm interested to see how it knits up.
I finally settled on a yarn and pattern for my sock pal's socks. I'm using Regia Loop Color and the Rib and Cable Socks from the latest issue of Interweave Knits. I had to add six stitches into the ribbing to adjust for the smaller gauge and all is going well.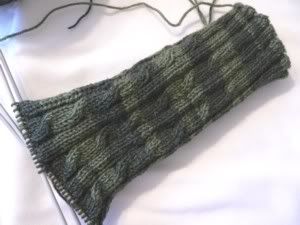 Then there's this problem: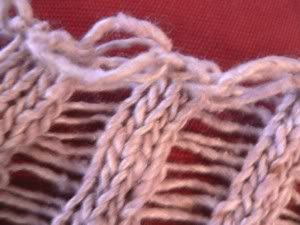 I am on the sleeves of the Drop Stitch Cardigan. I dropped and pulled and tugged. I then held it up to admire my sleeve. Ugh! Do you see it? The edge is all flimsy and undone. I didn't even think about this before, I mean, I've done Clapotis twice and all... So all afternoon I played around with different cast-on edges and I'm not satisfied. They're either too firm or also the same way. I think that I may just leave it as a ribbed cuff. If any one has any ideas to a better (elusive) cast on, let me know.