Yeah! I finally got all the stuff that I bought while we were back in the States. Here's the haul.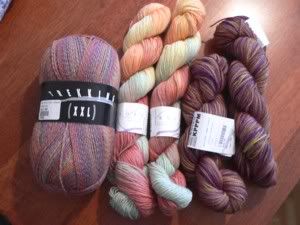 Trekking XXL color 105, Lorna's Laces Shephard Sock in Glenwood, and Koigu in P800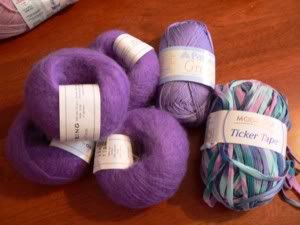 Crystal Palace Kid Merino, Patons Grace for swatching, and Mode Dea Ticker Tape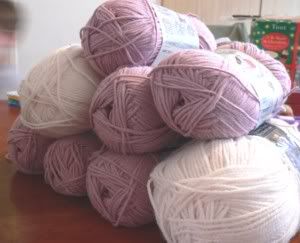 From the sale bin of AC Moore: Woolease Sportweight for some Aran socks and TLC Cara Mia
Anyone spot the oddity of the bunch???
The novelty yarn it is! This just is really soft and I just had to try it out. I'm also excited about the Cara Mia. It seems like a great substitute for Cottonease, only more expensive. I figure it's on account of the 13% angora. So soft! Anyone know if it's discontinued? I can't find anyone who is selling it anymore. Just as well.