It started out with a tickle in my throat Thursday night. By Friday night I knew it wasn't just an itch. Yuck! I'm sick! Saturday I alternated laying on the couch and the bed. Thankfully Royd stepped up to the plate without even whining once. He took Reilly out for a few hours so that Connor and I could have some quiet time together. Yeah, he was blessed with it too. By Sunday I was feeling at about 90% strength. To thank the Hubster, I made him pancakes and eggs; something I rarely do anymore.

Since I was feeling better, but still trying to take it easy, I got to knitting. I finished one of the socks for my Sock Pal, and immediately casted on for the second. I also thought I'd try out one of my new spindles and the olive roving I just got.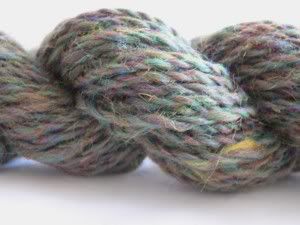 It's a bit more green in person, I just couldn't get an accurate shot no matter what I tried. But all those other colors are there, making it not so olive. The wool is a bit course too. As far as my spindle goes, I'm not hugely impressed. For one, I don't like the bottom whorl. Even after I got used to it and developed a rhythm, it was still cumbersome. Luckily I dropped it and the whorl came unglued, so I made it into a top whorl. Second, the hook isn't screwed in straight so it wobbled. Third, it doesn't hold all that much yarn. I could return it, but it's too much bother and I'll use it as a backup. Now I just need to test the other one.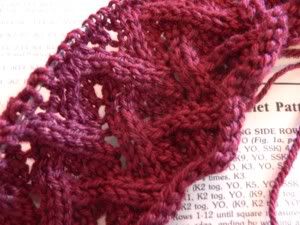 I started a block for the sampler afghan. I'll probably be donating this one to charity. I discovered that I don't have enough yarn to make it full sized and I'd rather not use this yarn for myself. For some reason I was under the impression that the skeins were 7 ounces, not 5. I'll be watching the sales for another yarn to use for me.
And while we're talking about my "stupidity", for a lack of a better word... The French mohair that I got that I thought I would use for Kiri won't work. Well, KSH comes in 25 gm balls, and this comes in 50 gm. Duh! That's a big difference in yardage. But it will work for the two sweater that are on my wish list. I just need four more balls. Or I could just make a scarf...