Last weekend didn't yield much knitting time. You'd think that with a four hour drive there'd be some, but not so. The hubster doesn't like to drive and is quite horrible at it so I ended up doing most of it. On my hour break, I did manage to get about 6 repeats on the Irish Hiking Scarf and that's it for the whole four days!

Wednesday I got my new Interweave Knits in the mail. Wanna see what I had to have?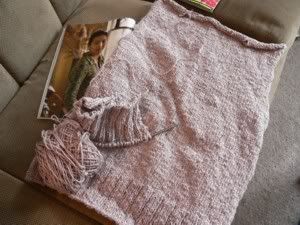 That's the completed back of the Drop Stitch Cardigan. That would also be my new Silky yarn. A perfect match! I'm so glad I didn't forge ahead on the other sweater I was thinking about. I wasn't sure if I'd have enough of the yarn, since the yardage and weight is a bit off so I tried to hurry up and finish the back. I used 140 gms out of a total of 700. I think I'll be just fine.
I also want to make the Greek Pullover (without ruffles) and the Union Square Market Pullover. One small problem with the latter. The largest size measures 44". I do believe that I'll need more than 1 1/2 inches of ease. Perhaps I'll wait on this one to see how my body settles down once Connor goes on cow's milk. It's only 5 more months. I guess I could wait.
There's been a bit of spinning going on too. I finished some more singles of the wildberry and then tried my hand at some thicker singles. Once I get around to setting the twist, I'll see how I did. In the meantime, I finally got around to dyeing some roving. Here's a pretty good picture of the colors.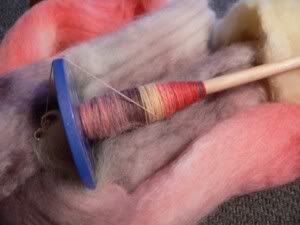 I dyed just enough for a pair of socks. I'm trying to get half of it spun and plyed before next Thursday. The newbie knitter in my knitting group wants to make socks, so I thought it'd be fun to start a pair with her and help her along.
I also swatched some yarns for my sockpal. I'm not sure if I like what i have.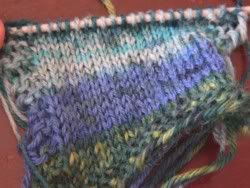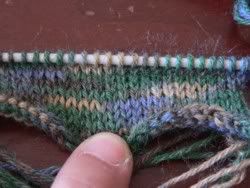 There are these or this: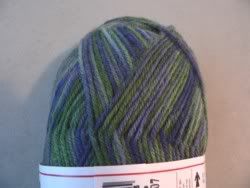 Maybe I'll find some tomorrow in Nuremburg...