The following can only mean one thing: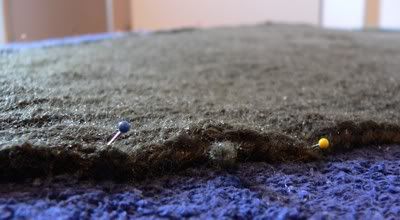 The blocking boards back in action!!!
There's quite a bit waiting for it's turn. First, Twist, followed by the Basketweave Pullover, the Selbu Mittens, and then Samus.
I had mentioned last post that I'd been busy. Well it started when I had been looking for a needle. This forced me to go through the UFO basket/pile. I had no idea that so much was lurking in there. I spent a few minutes reevaluating some of them and quickly went to work. So far I've ripped a sweater, a sock and wove in the ends to a potholder. The Easy Garter Stitch Scarf is no more-right into the garbage. It was done with scraps so no big loss. Still to be dealt with is a Clapotis that just needs a blocking and the Heart-Motif Sweater. Granted, the little girl will never fit into the sweater anymore, but surely someone will have one soon enough that I can gift it to.
All this progress has left me to feel that something needed to be actually knitted on.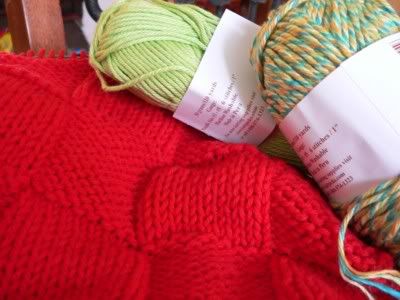 The red is Jake from Rowan Junior in Cotton Ease. The two balls in the corner will become a blanket for the baby. Yes! I am actually starting something for him.
In spinning news, I practiced at some more Navajo plying. I think I got it! The last batch came off perfectly balanced and evenly plied. Yay, this pleases me immensely!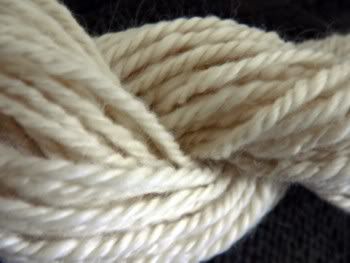 Oh, and if you're wondering, the New England socks did NOT fit. Well, they wouldn't go over my ankle. Darn it!