Woo Hoo! Twist is done!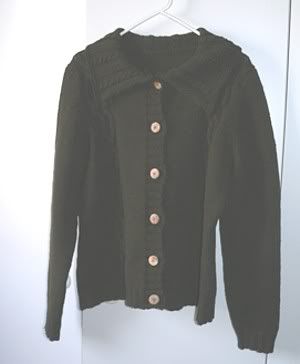 Pattern: Twist
Yarn: Peruvian Collection Highland Wool, Tuscan Green, 12 balls used
Sorry about the crappy picture above, but it best represents the actual color. The following photo is much better at showing the details.
I'm quite pleased with how this sweater turned out. I guess all those other sweaters that never got finished taught me some important lessons on what I need for my body frame. Granted, I'm not getting a really good look since it's being stretched over a very large belly, but it seems to fit in the important parts. The only thing is that I would have made the sleeves a full inch shorter instead of just a half. Also, I did not do the fringe on the collar. I'm just not a fringe kinda gal.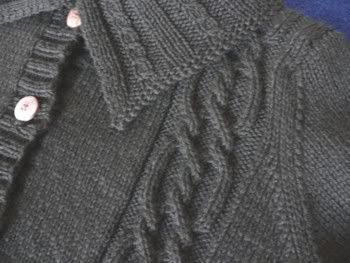 Okay, now that this one's done, I can get onto those UFOs awaiting impatiently!