I don't know who I'm kidding, I'll never block these: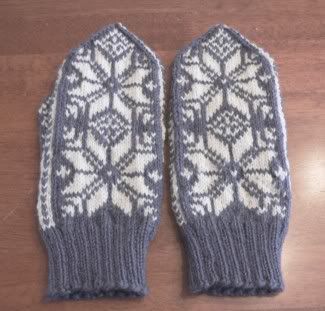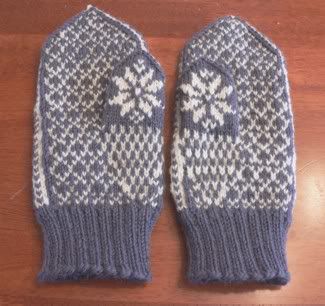 Pattern: Selbu from Folk Mittens
Yarn: Knitpicks Wool of the Andes, grey and Cloud
They're not perfect, but since it was only my second attempt at stranded colorwork, I'm okay with them. I'm sure that with wear, they'll stretch into place.
But wait! There's more!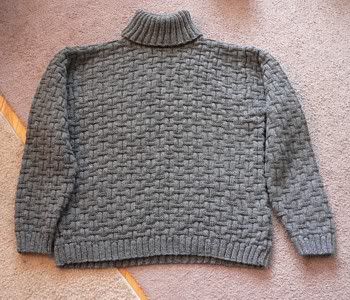 Pattern: Basketweave Pullover, Interweave Knits Fall '04
Yarn: LB Woolease, charcoal grey
I started this last summer with the intention of having it finished in time for fall. Well, it's almost spring. In fact, I mentioned it to him and he had completely forgotten about it. I had alot of issues with this sweater. First, it took forever. Second, I kept messing up the seaming. Third, I couldn't find the right needle and it took me two months to go out and buy it. Fourth, when I finally had said needle, I didn't feel like doing it. Fifth, I had to reblock the dang thing two times.
Just so ya'll know, if using acrylic in a highly textured pattern, don't expect it to block out. I had to steam it into submission. Now, it's behaving nicely and I just hope that he likes it afterall.