First, let me thank everyone for their suggestions regarding boys patterns. I went ahead and ordered two Debbie Bliss books and Rowan Junior. I may also have let a few other things slip into my shopping cart. Woops!
Honestly there hasn't been all that much knitting going on. Twist's main pieces are finished and are awaiting blocking. That will probably happen this weekend once I can get the blocking board set up. The socks are coming. Slowly. I just haven't felt like working on them. Crazy, I know.
Speaking of socks, I got my pal's info this morning and have been poking around her blog. I really don't have a clue which direction to go this time, but I've got time. Then, the next sock was announced for the KOTR kal. I was hoping that New England would win because I happen to have the perfect blue yarn already in the stash.
Spinning has taken up much of my free time. The Mountain Sunset roving is all plied up and is busy drying out. I tried to take some good pictures of it prior to it's bath, but with the lack of sunlight the past few days, it was either coming out purple or grey.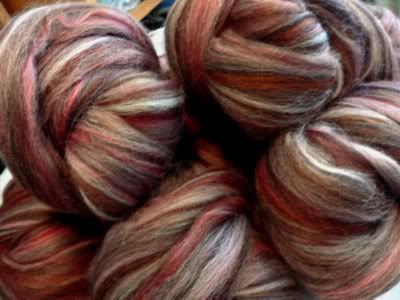 In the meantime, I'm busy with this. Maple Sugar roving which I also got from Copper Moose. For this I went back to spinning a fine single since I can make a much more consistent yarn this way. I have a whole pound so it's gonna take me awhile.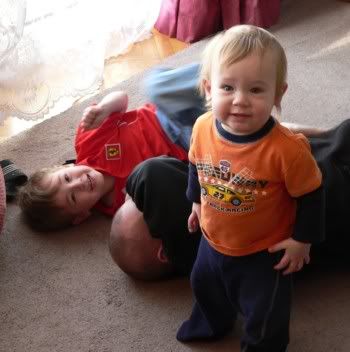 I realized that I haven't shown a picture of Connor in quite some time. So, here he is playing around with Reilly and Royd. Can you believe how big he's gotten? What I can't believe is that in two short months he's going to be a big brother. You know, I never thought in a million years that I'd have three little boys, much less two of them being so close together. Well, as they say, "Life happens". Or something like that.
I don't expect my posting to be quite as regular the next month or so. Royd has once again left for field training and won't be back for six more weeks. So far we're keeping busy and I haven't felt like running away. Yet.
Ask me again in two weeks...