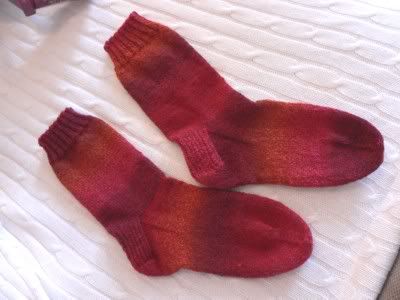 Yarn: Lana Grossa Mega Boots Stretch, color 709
Pattern: My standard top-down
I had to force myself to sit down and finish these. I'm not sure why. If you notice, they don't match. The color repeat shifted halfway through the first sock and I really didn't feel like pulling out a ton of yarn to find the same repeat. I just had to let it go, besides they look cool enough as it is. I also used 68 stitches instead of my usual 64. I find that when I knit with stretch yarns that my tension tends to be a bit tight. After wearing them around for a whole day I found that I didn't need to do this. At least I know for the next pair.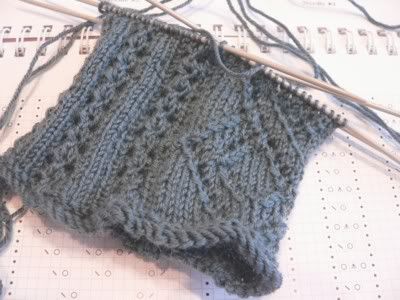 The completion of those socks left my needles free for another pair to be started. I just don't think they're going to fit. Tomorrow I'm going to put the stitches onto some thread and see. Fingers crossed that I don't have to rip it all out!
Of course there's been a whole lot spinning...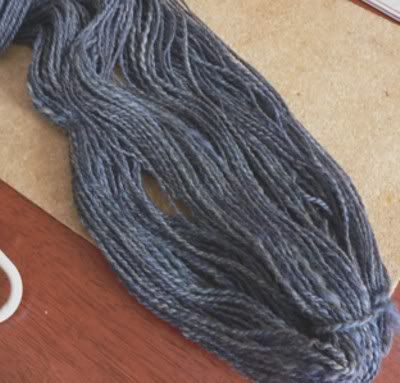 Let me just say that this yarn does not want to be photographed. I took nearly 100 (yes, I'm serious) photos under every conceivable light condition and CAN NOT get an accurate one. Let's just say that it's freakin' gorgeous! I chose this particular shot because it shows the balance coming straight off of the wheel. Of course there are spots where the spinning or plying could have been better, but it's making me very happy. In the end 8 oz yielded me about 400 yards with most being about worsted weight.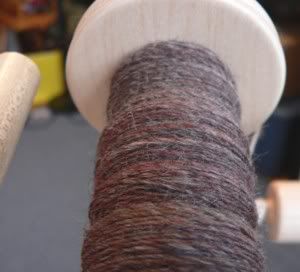 Here's the Maple Sugar in action. I'm liking it so much that I went ahead and ordered another pound of it. Since I can't guarantee the same dye lot, I'm waiting to ply it until the rest comes in. Oh, I may have ordered some other fibers to try out while I was forking out money. (And I may have not been satisfied with that and went to another store too. Full details to follow at a later date.)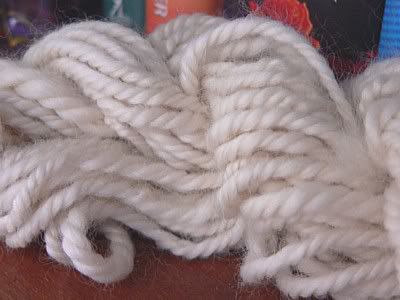 While I'm waiting, I pulled out the remaining 7 ounces of corriedale from when I first learned to use the drop spindle. I wanted to practice both thick singles and navajo plying again. This is what resulted. For an 1 1/4 oz I ended up with 24 yards and the best job I've done yet. I am determined to get this technique down. The idea of no leftover singles has gotten the best of me I'm afraid.
There's much more to report, but haven't gotten to taking pictures yet. Besides it'll make a nice long post by itself. I'll just hint you with this: the Basketweave Pullover is involved!